SANDGATE - There is an effort underway to restore the historic one-room schoolhouse on Sandgate Road.
Along with fundraising for a restoration effort for the last-remaining town-owned school, there is a companion project to collect and preserve some written history of the small Vermont border town.
The schoolhouse and the town history follow nearly parallel paths from yesteryear to today. The paths will merge on July 12.
Funds are being raised to repair the school, and a book chronicling newspaper correspondents' reports of Sandgate is also being published. Profits from the book sale will also benefit the schoolhouse project.
For the first time on July 12, visitors to the fundraiser will be able to purchase copies of "Sandgate In The News - 1861-1940." The volume chronicles mischief, mayhem and murder in Sandgate.
Visitors will have a chance to view the historic schoolhouse as well as purchase the just-published book.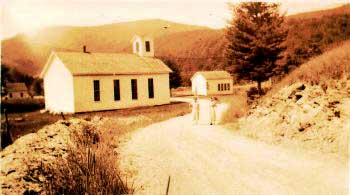 TIME GONE BY - Two women stroll in the sunshine near the Sandgate schoolhouse and church early in the 1900s. Photo courtesy of Elsie Lomberg Sprague
There is some evidence that the school was first built as a private home sometime around 1830. It was later converted to use as a school.
The written "history" covers happenings in the town from the Civil War era to World War II, news as reported by town residents and published in the Manchester Journal from 1861-1940.
The building contains old slate blackboards, an old wooden map case with three original maps and the old school clock.
Former student Elsie Sprague recently donated the clock to the school that she once attended.
The book tells of everyday events in the town - from getting the hay in to harvesting apples and lumbering.
The town had two social halls. Town celebrations and dances where townspeople "tripped the light fantastic" were held there.
"Sandgate In The News" tells of church revivals, oyster suppers and at least three murders - one an axe slaying in Hamilton Hollow just up the road from the school and church.
In the tradition of Vermont in the early 20th century, townspeople held "kitchen dances." An alleged murder in the Beartown section of the town happened in 1911 at one of these dances.
Plan to attend the 11 a.m. - 1 p.m. fundraiser on July 12, visit the school and buy your copy of the "history."